Hong Kong isn't all skyscrapers and concrete.
We live in a small village in Clear Water Bay in the New Territories. All the homes are three floors of 700 square feet per floor. They are divided in a mix of combinations, ranging from the entire house to six 350-square-foot flats. We live on the ground and first floors, 1400 square feet, plus a rather large terrace that Leela has festooned with more plants than anyone else has in the village.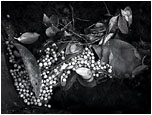 These photos were taken on a few wanderings around the village. I've spared you the tons of dogs that are everywhere and focused on things that caught my attention -- including perhaps my favorite above... tiny flotsam (round plant pods) caught in the eddy of a miniature stream.
They were all taken with a modified G1 and a B+W 093 true infrared filter.