The best advice I can offer here is to choose your snake wisely.
Ours was a perfect gentleman. Never hissing, never biting (always a plus) and very patient.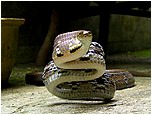 Patience was really required that day because I picked up my G1 to find that it would zoom out full strength and stay. Shut it off and it zoomed in. Turn it on and touch the zoom lever again and it would zoom out and stay. Etcetera.
Apparently it's not an unheard-of problem, and the Canon service center later got it fixed in a few days, but it took a little extra time and fiddling to get these shots.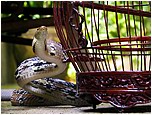 As for photography tips, you might consider adding an unusual element to the photo to separate your shots from the herd of ordinary pet photos.