I visited Bali in May 2002 and stayed in a lovely secluded villa about twenty minutes outside Ubud in the central highlands. One of my daily pleasures was visiting the two ponds on the property to see the lotuses.
The result is a gallery that begins with a bud, ends with a dying flower, and follows the life cycle in between.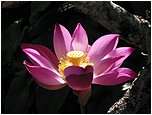 Before this gallery, I had a single flower on the website and hadn't planned on including more. Then I met the lotus.
This is a fascinating flower that blooms and lives and dies within three or four days, folding its petals each evening and opening them in the morning.
I know nothing about the flower except what I observed, but because the life cycle is so short and spectacular -- and because I was so interested -- I learned a lot.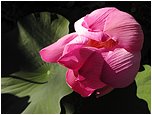 There's no need for macro photography with these flowers -- they're simply too large, being up to a foot in diameter.
I visited the ponds every day for ten days and took 355 color shots and another 25 in infrared.
Some of the photos in this gallery are like the photos in the "peak" gallery -- not all belong on artistic merit, but are included because they depict one of the stages in the life of the lotus.