The photos in this gallery were taken with a stock Canon G1 and a Hoya R72 infrared filter.
With this combination, shutter speeds are rarely faster than 1/20th of a second, so they were all raken with a tripod -- a Manfrotto 055PRO with a Kenko FP-100 Ballhead, for those taking notes (good news... there won't be a test).





In the Canon G-series cameras -- G1, G2, G3 and G5 -- the G1 is far and away the best for infrared photography. The most obvious reason would be that its internal "hot mirror" is less aggressive in filtering infrared light than those in the other cameras.
The G1 also has a different color array -- CYGM -- versus the GRGB color array of the other G-cameras, but whether that makes a difference in the quality of the infrared output I couldn't say.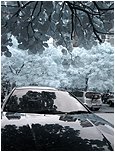 One of the visual pleasures of the G1/R72 combination is the occasional icy-green "false color" produced in the foliage that is most visibly noticeable in the last half of the shots in this gallery.
It's called false color because true infrared photos are black-and-white. The Hoya R72 is not, however, a true infrared filter, allowing some visible light through which colors the images.
To achieve this light-green effect, you'll need to shoot in RAW mode and convert the image to TIF using a custom white balance (any medium gray in the photo). This will eliminate the natural magenta tone that you get with auto white balance, either by shooting JPGs or in RAW conversions.